Don't you just love a good chick flick?
Well I'm talking to all the women and some exceptionally sensitive men out there of course! There's nothing more fun and relaxing than hiring a 'chick flick', popping some corn, getting a chocolate bar out and opening a bottle of chardonnay with all the girls! It doesn't come much better than that for me which is why I have compiled this list. I believe that every woman out there should have seen the movies below at LEAST once and if you haven't then I suggest that you watch them this instant because you don't know what you are missing out on!
Legally Blonde-Elle woods has it all; she's beautiful and popular and she has a gorgeous boyfriend. Elle wants nothing more than for his man to pop the question so that she can finally be Mrs. Warner Huntington – however, for some strange reason he feels she is just too blonde! So the man of her dreams packs up for Harvard law and reunites with his former girlfriend. With her dreams shattered, Elle decides to prove herself and all other blonde's out there that she's not your typical blonde so she sets out and gets accepted into Harvard.
Miss Congeniality-When a serial killer indicates his next hit will be the Miss United States beauty pageant, the FBI decides they need to go undercover to track this serial killer down. So they send the very masculine FBI Agent Gracie (Sandra Bulloch) to pose as Miss New Jersey and she undergoes a make over transformation. A laugh out loud comedy movie for all the women out there!
Where the heart is-Novalee Nation is a pregnant 17 year old from Tennessee heading to California with her boyfriend, Willie Jack. In a cruel twist of fate, Willie abandons Novalee at a Walmart store. Novalee is pregnant, she has no job and only has $5.55 left in her pocket so she decides to stay in the Walmart until her baby, Americus is born. After giving birth, Novalee decides to raise her child and rebuild her life in this nice little town with the help of many kind strangers. A very sweet tear jerker for all the ladies out there.
Sex and the City-After Carrie and Mr Big move in together, they make a hasty decision to get married. Initially they wanted a private wedding, but then the wedding balloons from 75 to over 200 guests in just a short period of time! While Carrie juggles the wedding plans, Charlotte is trying to fall pregnant and  Samantha is still living the single life. And while all this was going on Miranda battles a cheating husband and accidentally influences Mr Big to leave Carrie alone at the altar. A must-see for all the Sex and the City fans out there!
The Devil Wears Prada-The simple, naive and recently graduated Andrea Sachs is hired to work as the assistant for no other than the ruthless and merciless Miranda Priestly, the editor of the exclusive fashion magazine, Vogue. At first, Andrea doesn't fit in with her average ways - but then with the help of another employee and stylist, Nigel, she eventually fits in with this fashion forward crowd. But then will this significant change in her life cost her the love of her boyfriend?
27 Dresses-Jane has two secrets; she is in love with her boss and has been a bridesmaid 27 times. Jane eventually meets a cynical journalist who uncovers her bridesmaid obsession but things get even more complicated when Jane's sister comes to town. Will Jane loose her boss to her own sister?
Mean Girls-Cady Heron was raised in the African bush country and thinks she knows everything about survival. Her survival techniques are put to the ultimate test when this home-schooled teenager enters public school and suddenly discovers the unwritten rules teenage girls of today face.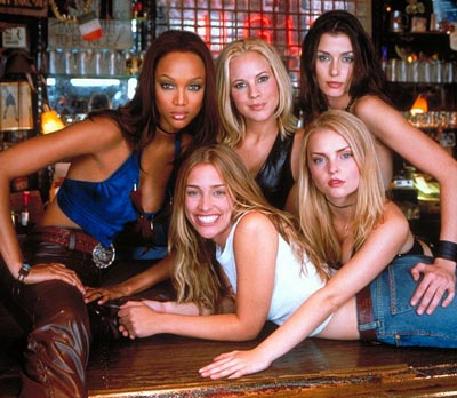 Coyote Ugly- A young Violet Sanford leaves her life and family behind in New Jersey and moves to New York in order to fulfill her dream of making it big as a song writer. With no money she eventually has to resort to a job as a 'coyote' in a bar. A sexy feel good movie for all the women out there.
Princesses Diaries-An awkward yet intelligent young teenager raised solely by her mum discovers she is the Princess of a small European country, Genovia due to the death of a father she never knew. This puts her in a position where she has to choose between her current life in San Francisco or whether to take on a new life as the Princess of Genovia.
Grease- This musical is based on a 50′s romance between Good girl Sandy and greaser Danny – it follows their romantic adventure over the summer. The summer romance was great, but will things change when they both deiscover that they are actually at the same school?
Twilight- Against all odds, an awkward yet kind-hearted teenager and a sizzling hot vampire tries to hide their secret love affair. Being a human and a vampire brings enough hurdles but will bloody thirsty trackers and the disapproval of friends and family become too much to bear?
Okay, so there are actually 11 movies in this list and that is because I just couldn't cut down on my list! These movies were all just too good and none were worthy of the cut. Please feel free to comment below and give me suggestions of which movie should be considered as the ultimate chick flick.