So what were the celebrities and fashionistas wearing at this year's New York Fashion Week? As you can see there are numerous hot trends to embrace this year. As New York Fashion Week wraps up, here are the hottest looks.
As front-row fixtures and party guests, these styled celebs looked just as glamorous as the models on the runway.  Jessica Alba donned an aqua blue and black cutout dress at Michael Kors; Blake Lively was seen in a sleek white tuxedo dress at Noon by Noor; and Bar Refaeli showed off her supermodel stems at Marchesa.
Dakota Fanning looks all grown up in this metallic ensemble. I am loving the bronze pants with the pale blue top. This is the perfect blending of metallics and pastels which I was discussing in a previous post. I am a bit unsure of the shoes and I think a patent nude shoe would have been a more suitable choice.
Fashion week stalwart Olivia Palermo wrapped up against the cold in a fur gilet, but managed to keep her palette Spring-like with light blue jeans and a royal blue tote.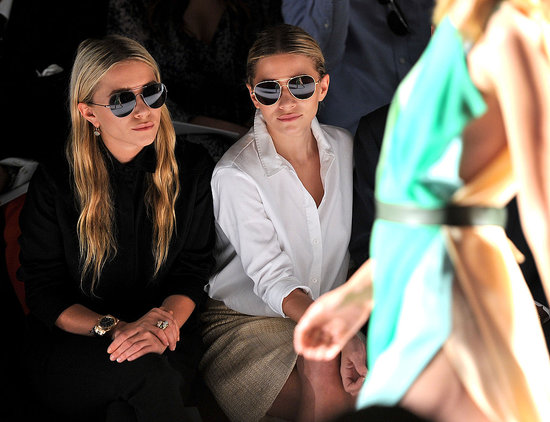 While Mary Kate and Ashley Olsen are looking great in their sophisticated collared shirts, I really don't think there was that much glare coming from the runway!
Bar Rafaeli and Stacy Keibler attend the Marchesa Fall 2012 runway showcase at the Plaza Hotel. Stacy looks stunning yet ultimately sexy in this sophisticated ruby red lace dress. The high lace neckline gives the dress an extra boost of class and elegance.